Earn with Video Marketing as an Online Marketer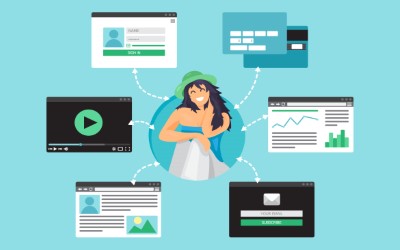 YouTube
YouTube receives more than one million unique users per month, which is a large audience. Many people are already making money with YouTube.
You can use the YouTube Partner Program. Once you are a member, YouTube will display ads next to your video, and pay a percentage of their income to you.
If you have a website or blog, you can use YouTube to increase your traffic. You can create products and promote them on YouTube by simply adding your product link in the description of your video.
Coaching
A coach is a guide that establishes a relationship of trust and generates impact strategies. You can become a coach and start training people through video. By offering your services as a coach, you'll be willing to train others on a topic that you're good at.
For starters, you need to create a YouTube channel. Let's say, you excel in marketing. You can start uploading videos in which you talk about different strategies, thus evaluating and providing analysis for others to learn.
By selling your knowledge like this, and joining the YouTube Partner Program, you enable your channel for monetization, and you will receive a share of revenue from advertising on YouTube. Just as the YouTube stars do, you will then receive some revenue per each one thousand views on your videos.
Revver
Revver is a sponsorship market for online video, which seeks to connect artists with audiences and advertisers.
Revver gives you the tools to distribute your work online and earn money. The site aims to support free, online accessible videos, and also reward the efforts of creators. Revver works as follows: when you upload a video, it attaches a brief ad at the end of the video. People see the video on Revver.com or other sites that the video has been embedded in.
If someone that sees your video then clicks on your ad, Revver deposits a portion of the click-through value into your account. You can follow your video's performance through your Revver account and Revver sends you money.
Sell your content on iStockVideo
iStockVideo.com is a new service created by iStockPhoto.com, it is a wonderful Free Stock Photography website.
With iStockVideo, you get paid for uploading video (stock footage) that other people may want to use as part of their videos. You can upload animations, digitized sequences, video, etc.
If you contribute a video in the first 90 days, you receive 10 free credits to use anywhere on iStock. If you tell your friends about iStock, you can receive up to $50.
Seek sponsors for your videos
You may be able to find sponsors to help you pay for reaching the audience that you want. You can offer those sponsors the ability to advertise through your video.
WebVideoZonePlayer, at www.webvideozone.com/public/main.cfm, makes it easy to add powerful, interactive web video presentations to websites.
You can charge sponsors by the month, per click-through, or per unique viewer. By checking your video stats, you and your sponsors know exactly how many people saw the video.
Sell products
If you have your own online store, you can promote your products by creating a video in which you talk about your products.
The most effective way to sell your product through videos is by showing how the product can meet the consumers' needs. You can also stay one step ahead by including answers to possible objections of consumers, even before they arise.
An online, well-produced video, can be beneficial to almost anything that is being sold through the internet. These videos are the key to making your viewers become customers and thus, increasing your income.
Create Promotional Videos for Local Businesses
You can offer your knowledge about video marketing to small businesses that request video advertising services; such as real estate agents, new and used car dealers, travel and leisure destinations, restaurants, tour groups, antique shops, galleries, shops with interesting inventory to show, local shopping malls, etc.
They pay you to create videos to promote their store. You can make a good amount of money just by using your camera and some editing software.
Place Google Ads Next to Your Videos
If you are creating your own videos, you can add a good description and place some Google AdSense ads next to them, because they might be of interest to your viewers.
If you want good results, make sure your video is about an appealing topic for the target audience that the advertisers are trying to reach.
Also, make sure you use keywords in the title and in the description.
Start a campaign
If you want to draw the attention of more viewers for your products, you can go beyond showing an independent video.
To cover a longer range and get better exposure, start creating video campaigns, i.e. a video series with content that you can post on a regular basis.
This will help you to create a synergy around your content, and also allow you to build an online identity through the publication of each video.
Have a call to action
Do not miss the opportunity to ask your audience to take action at the end of your video.
You can ask them to visit your website and check out your products, leave a comment or ask any questions.
Use your video to define a problem and discuss solutions. If they like your video, it is likely that they will do what you are asking, so make sure you take advantage of that.